Opposition leader Siddaramaiah has expressed outrage that Modi has defrauded the youth who worked in Modi… Modi… in the 11th Lok Sabha elections in Bangalore.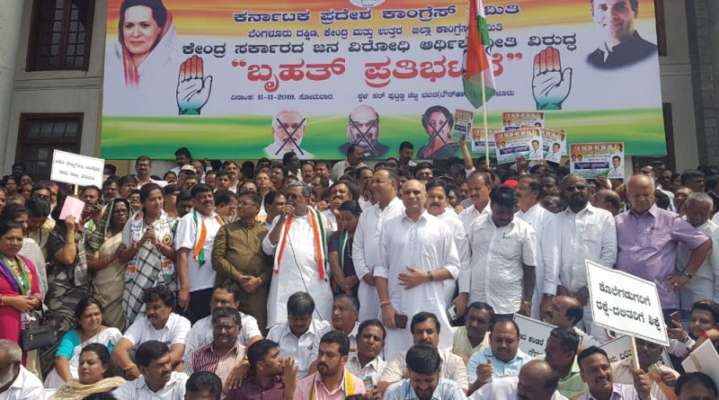 Inaugurating a protest march organized by Bangalore City District Congress Units in front of the city's town hall, he said that the youth community has supported Modi in many areas including social networking.
Modi promised to create 2 crore jobs every year. But 2 lakh jobs are not created. Instead the rate of job cuts is increasing. Modi has shattered the dreams of youth.
The country is in an unprecedented economic predicament. Modi, who is completing a five-year term and now in his sixth year, is taking the country to a standstill. When Manmohan Singh was Prime Minister, economic growth was at 8 to 9 percent.
In six years, it has fallen to 5 per cent, according to central government statistics. But in fact the rate of decline is more than 3. It accused Modi of being a recession on the Prime Minister.
On the one hand, the economy is in recession, on the other hand the unemployment rate is rising by 8.5%. It's been three years since Modi issued a note saying he would curb fake money and curb corruption.
So far, black money has not returned, nor has corruption reduced. In the case of Note Ban, the dead are poor, not rich. Farmers, women are in trouble. The industry sector is also slipping. Hundreds of companies shut down. All work is being cut. He accused the people of losing the comfort of the BJP since it came to power.
In Karnataka, Yeddyurappa did not come to power with the blessings of the people. The government has been through the back door by buying 14 Congress MLAs. Seventeen MLAs have resigned from Operation Lotus. Now there is a by-election for those constituencies. He blamed Yeddyurappa for such a situation.
In the morning, Yeddyurappa is advertising the newspapers. The cheerleader, the brave and the brave are always praising. Former minister Ramalingareddy, who was speaking at the protest, said the Union minister Nirmala Sitharaman knew nothing. This is why the economy is spoiled.
Modi did not come to the aid of peasants in distress. The central government is following the stepmother's attitude in Karnataka. Modi MP VS Ugrappa said Modi is the biggest liar the country has ever seen. "I would recommend that Nobel Prize be given to Modi," he said.
Siddaramaiah implemented a number of populist projects, including Annapoya. The BJP does not work for the people, it is politicized with emotional issues like Ramjanmabhoomi and Pulwama. He said people are not thinking about development.
Women Congress President Pushpa Amarnath said the central government is giving life to girls. The BJP government is credited with imposing GST tax on sanitary pads. He said that people are coming to power through Operation Lotus in the state and washing their hands in tears.